June 25, 2022
UK Athletics Championships: Jeremiah Azu and Daryll Neita take 100m gold
Jeremiah Azu and Daryll Neita took gold in the men's and women's 100m finals on day two at the UK Athletics Championships in Manchester.
In two of the weekend's biggest upsets, they beat favourites Reece Prescod, a European silver medallist, and reigning UK champion Dina Asher-Smith, clocking 9.90 and 10.80 seconds respectively.
Zharnel Hughes and Imani Lansiquot each finished third.
Both Azu and Neita's times were wind assisted.
"I had it on my lock screen on my phone since last year – 2022 British champion – and to stand here and say it I'm so grateful," said Azu. "It's just the beginning, I'm 21 and I'm looking to change sprinting in Britain forever."
He is now set for a place at the World Championships in Eugene, Oregon due to the world rankings.
The men's race began with with a false start, which saw Ojie Edoburun disqualified.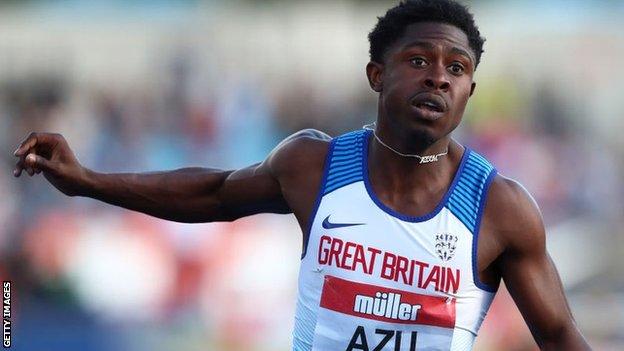 Neita couldn't hide her joy and said she will take confidence from victory over Asher-Smith.
"I've watched her do amazing things on the world stage and it's been very inspiring but I've always known I can do it too," Neita said. "This gives me a lot of confidence and I really believe there is no limit to me.
"I'm super happy. I've worked so hard for this. To finally get the gold just means so much."
Asher-Smith only began her season last month, but still shouldered expectation coming into the race having won the 200m world title and taken silver in the 100m in 2019.
She said she was "fuming" about the result but added she was pleased for Neita.
"I'm annoyed because I'd rather win. I'm fuming because I don't like losing but I said to her face that I'm very happy for her. She's worked really hard and improved so much over the years."
Laura Muir cruises to the 1500m title
It was a superb afternoon for Laura Muir, who eased to victory in the women's 1500m. She was able to pull away from the chasing pack in the last 500m, and finished with an impressive time of 4:12:91.
Muir was in fine form again, building on her silver medal in the same event at the Olympics in Tokyo last year.
"If you'd asked me how I was feeling a couple of weeks ago I would have been a little bit uneasy," said Muir. "It was nice last week to do some 800m and go 'OK, we're fine, the training is translating into races'. I've still got a couple of weeks to go and I feel in a very good, strong, position."
She was almost a full five seconds ahead of runner up Melissa Courtney, who took silver with a time of 4:17:72, with Sabrina Sinha in third on 4:19:76.
Victoria Ohuruogu edges gold in 400m
Victoria Ohuruogu, sister of 2008 Olympic gold medallist Christine, kept up proud family traditions with victory in the women's 400m, but it was something of a photo finish ahead of Nicole Yeargin and Lavial Nielsen.
"My sister is so knowledgeable and is so talkative, she really helps as she always knows what to say when I'm competing. A great person to have in the corner," said Ohuruogu.
She took gold on 51.45 seconds, with Yeargin in behind on 51.69 and Neilsen on 51.97.
Keely Hodgkinson, who was using the weekend as speed training, came fifth with a personal best of 52.41 after dropping down from 800m, as she looks to add to her Olympic silver.
"I'll be going in as one of the favourites to medal [in the 800]," she said. "You can't think of the pressure or get too nervous because it's a really good position to be in. I'm just looking forward to going out there and fighting for the gold medal."
Elsewhere on day two….
It was a Scottish 1-2-3 in the men's 1500 metres, with Jake Wightman taking gold ahead of 2018 and '19 champion Neil Gourley and Olympic bronze medallist Josh Kerr.
Matthew Hudson-Smith won the men's 400m with a new British record time of 44.92 seconds, while double Olympic champion Daley Thompson's son Elliot won the decathlon.