August 10, 2022
Lundin boosts gold forecast after earnings plunge during Ecuador's national strike
The protest closed highways and delayed shipment of 16,000 ounces of gold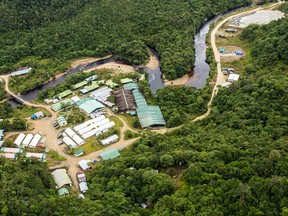 The company reported adjusted net earnings of US$13.4 million, or 6 cents per share, in the quarter that ended June 30, compared with US$74.8 million, or 32 cents per share, a year earlier. Its all-in sustaining cost (AISC) — a measure of cost of production — increased to US$864 per ounce of gold sold, compared with US$720 per ounce in the same quarter last year.
However, the Vancouver-based miner expects a stronger performance in the second half of 2022, as it increased its annual gold production guidance to 430,000 to 460,000 ounces from 405,000 to 445,000 ounces, and decreased its annual AISC to between US$820 and US$870 per ounce from US$860 to US$930 per ounce sold.
Gold shipments and sales of about 16,000 ounces that were planned for June were hampered by the blockades on some of Ecuador's national highways and were delayed into July, resulting in some revenue being pushed to the third quarter, the company said.
For about three weeks in June, Indigenous groups in Ecuador blocked roads across the nation, protesting rising fuel prices and demanding a limit on oil and mining expansion.
The protests took place at a time when Ecuador's new government, which took power of the South American nation a little over a year ago, aims to boost its mining industry and put about half-a dozen projects in construction by 2025.
The protesters and the government agreed to a 90-day truce in early July and have been in talks to ratify the situation.
"We will know through September as to how things are going," Lundin Gold chief executive Ron Hochstein said on a conference call on Aug. 10.
Hochstein said that he was confident that the situation would be resolved by October, when the 90-day period ends.
Lundin Gold acquired the Fruta del Norte mine in southeast Ecuador in 2014 for US$240 million, and started producing gold there commercially in 2020. The project area covers about 64,609 hectares and Lundin is currently exploring the region for more minerals.
The company produced 111,890 ounces of gold in the second quarter, an increase from the 108,799 ounces it produced in the same quarter last year.
Bank of Nova Scotia analyst Trevor Turnbull described Lundin Gold's latest update as mixed in a research note to clients.
Bank of Montreal analyst Brian Quast, however, termed the update as positive, owing to the increase in the company's guidance. Still, Quast noted that Lundin's reported earnings of six cents per share was well below his estimate of 22 cents per share.
Shares of Lundin Gold were trading at $9.81, up seven per cent at noon on the S&P/TSX composite index. The company has a market capitalization of about $2.3 billion.
• Email: nkarim@postmedia.com | Twitter: naimonthefield
Financial Post Top Stories
Sign up to receive the daily top stories from the Financial Post, a division of Postmedia Network Inc.
By clicking on the sign up button you consent to receive the above newsletter from Postmedia Network Inc. You may unsubscribe any time by clicking on the unsubscribe link at the bottom of our emails. Postmedia Network Inc. | 365 Bloor Street East, Toronto, Ontario, M4W 3L4 | 416-383-2300