June 26, 2022
'I couldn't be prouder': Valkyries cap off unbeaten season with championship celebration
"I'm going to be with the Valkyries in one form or another, probably for the rest of my life."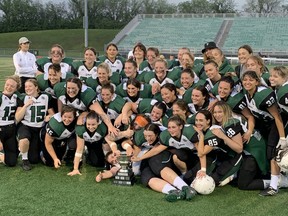 Jaime Lammerding's last night as a football player ended with teammates chanting her nickname — "Dinger! Dinger!" — and the hoisting of a trophy, high into the air.
Lammerding, who played with the Saskatoon Valkyries during their inaugural season in 2011, capped off a 12-year career by winning her seventh Western Women's Canadian Football League title on Saturday. The Valkyries beat the visiting Manitoba Fearless 36-6 at SMF Field, prompting an outpouring of love for the retiring defensive tackle.
"She means pretty much everything," Valkyries' running back Sarah Wright said of Lammerding, who is also the WWCFL president. "She's been around since the inauguration of our team, and every year, she's been a grounding person and the focal point of our family environment. She's pretty much the program."
Lammerding's twin roles as player and president collided Saturday: She celebrated briefly, ran off the field, and switched jobs — swapping her team jersey for a WWCFL sweat shirt. She then made a speech, congratulated the Fearless and her own team, handed MVP awards to Manitoba's Hallie Eggie and then to Wright, before calling for the Saskatoon captains. She gave them the championship trophy, then put her jersey back on and jumped into the celebration.
"The thing about our league is, lots of people wear different hats to make everything work," Lammerding said. "I know there's players on the Fearless who wear three or four hats just to make things work, and that's what people do because they love the game so much and they love the league."
The  WWCFL's 2020 and 2021 seasons were cancelled by COVID-19. The Valkyries salvaged something out of 2021, playing the Regina Riot in a three-game set, and then in 2022 they got down to the business of defending the title they'd won before a pandemic gripped the globe.
Saskatoon entered Saturday's title match with a perfect 6-0 record, including a 52-0 thrashing of the Edmonton Storm in the semifinal.
Manitoba entered with a 5-1 record, and the consensus role as heavy underdogs.
Wright carried the football 20 times for 157 yards and a touchdown, and Ricki Obed collected eight catches for 107 yards and two majors.
Wright's TD run opened the scoring and came from six yards out. Obed caught touchdown passes of 18 and 14 yards, Emmarae Dale scored on a 64-yard interception return, and Grace McCorriston caught a 16-yard touchdown pass and booted a 30-yard field goal.
Manitoba's lone touchdown was scored by Morgan Moffatt on an eight-yard reception.
Saskatoon quarterback Alex Eyolfson completed 16 of 27 passes for 239 yards, three touchdowns and no interceptions.
"You work all year for something like this," said Valkyries' head coach Pat Barry. "At the end of January, we come in here for our kickoff meeting. Here we are at the end of June, and it's pretty exciting to achieve our goal."
Wright, who has played with the Valkyries since 2017 and has two titles, talked Saturday about the impact the team and league has had on women's football in general. Females didn't play much tackle football a decade and a half ago, but she points to examples of how things have changed — including more girls playing at the high-school level, and flag football's role in boosting a feeder system to the tackle game.
"I couldn't be prouder of our whole organization," Wright said, while Lammerding noted that "girls teams are popping up everywhere."
Lammerding says she's not done with the Valkyries yet. She's talked with Barry about joining the coaching staff, and will look at getting certified.
"Even if I don't come back and coach," she said, "I'm going to be with the Valkyries in one form or another, probably for the rest of my life."
But on Saturday night, she had one final run as a player — inflicting bruises, and getting them back, just like always.
"At certain moments, it hit me a little bit and I had to take a deep breath," she said of playing her final game. "That's the last time I'm going to hear a pre-game speech from Pat as a player; it's the last time I'm going to do warmup. The last time I'm going to lead the jumping jacks at the end. Those kind of moments hit you. Otherwise, you've got to keep your head in the game and work towards the victory."
The sports world is ever-changing, as are the times. Supplement your steady diet of sports coverage by subscribing to the Regina Leader-Post's 306 Sports Fix newsletter. Each week, sports editor Rob Vanstone will provide additional commentary on the Roughriders, Pats and other teams/sports of interest, along with a peek behind the curtain. Click here to subscribe.
We deliver the local news you need in these turbulent times on weekdays at 3 p.m.
By clicking on the sign up button you consent to receive the above newsletter from Postmedia Network Inc. You may unsubscribe any time by clicking on the unsubscribe link at the bottom of our emails. Postmedia Network Inc. | 365 Bloor Street East, Toronto, Ontario, M4W 3L4 | 416-383-2300